Avery Divider 1-15 Coloured Tab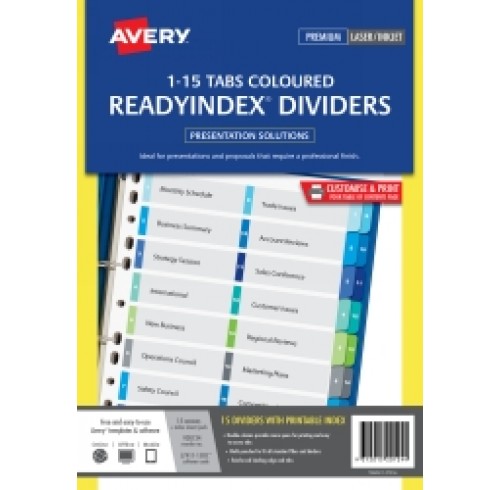 ReadyIndexⓇ, Dividers, 1-15 Tabs 920124 L7411 Tab Blue, Laser, Inkjet, Numerical
10551354 9312015201244
divider index indicies
SKU number 920124
Content15 Tabs
Print the table of contents using a laser or inkjet printer
Double column table of contents provides more space for printing titles
Customise your table of contents with our free and easy-to-use template software; Avery Design and Print - available at averyproducts.com.au/print
Tabs are split into two layers to reduce overlap, making them easier to grip and turn
Strong plastic tab reinforcement
Description
When you've got a big a project or business plan to put together fast, use Avery ReadyIndex® Double Column Dividers, designed to handle large projects easily and professionally. The Double-layer pre-printed numbered tabs from 1 -15 have less overlap and are easier to turn. The bottom set of tabs extends further out than the top set so you can see all the tabs at once. The extra strong reinforced punched holes and laminated tabs stand up to frequent use. The Table of Contents page features two columns so you have more space for text.
It's easy to customise your table of contents page with our FREE software, Avery Design & Print online. Select from the various templates that best suit your project and print from your laser or inkjet printer.
These multi-punched dividers are made from white manilla with reinforced coloured pre-printed tabs in 1-15 numeric sections. For clear identification, the Table of Contents sheet is colour coded to match the tabs.
Specification
Content 15 Tabs
Printer Type Laser, Inkjet
Software Code L7411-15DC
Colour Blue
Made From Manilla board with reinforced tabs