Floortex Long and Strong Floor Protectors 120CM X 5.5M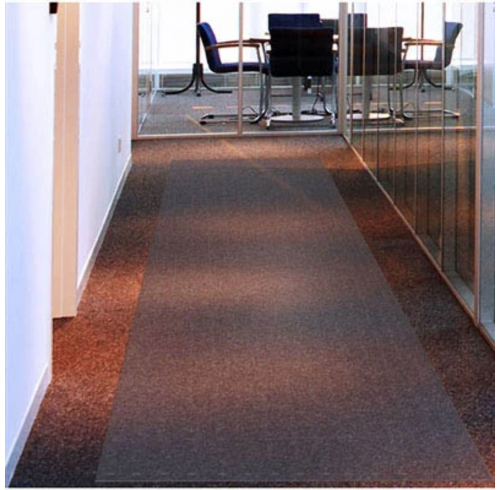 The Long & Strong range of floor protectors have been developed to be perfect for use in busy office locations and heavy use areas.
Constant human traffic can cause expensive wear and tear to floor surfaces; these specially designed mats are produced to specifically combat this.
They are also great for use at special events or during bad weather when flooring is subjected to increased wear, dirt & moisture.
Simply roll up after the event and store away for the next one!
PVC floor runner for Low to Standard pile carpets up to 9mm / 3/8" thick.
Phthalate free PVC formula for safety, clarity and durability
Contains up to 25% recycled material
Produced using up to 30% renewable energy
Includes grippers for stay-put performance
Lightly embossed top surface to resist scuffing
120 x 550cm
Rectangular shape
1 year
Links
About Floortex
Floortex is a global brand and was established in 2001 with manufacturing taking place in the United Kingdom of Great Britain and Northern Ireland. Floortex was introduced into the Australian and New Zealand markets in 2006.
Floortex offers a wide range of floor protection products, including:
- the highly durable and environmentally friendly Polycarbonate chairmats for carpet and hard floor surfaces
- 100% post consumer recycled RPET chairmats
- PVC chairmats for carpet and hard floor surfaces
- entrance mats for indoor and outdoor use.
Floortex Logistics
We pride ourselves on excellent customer service and distribution which is a key element to our success. We operate out of several locations and also utilise a number of trusted distributors to insure the high levels of service our customers have come to expect.
Our Corporate Headquarters are based in Tewkesbury, UK. At this location our teams focus on our global strategy and mission of bringing innovated and high quality items to the market and focusing on how we can best service our customers in those markets around the world. Our customer service team at the head office are eager to assist any advocate of the Floortex brand, whether you are an end user of one of our products or looking to be a new customer, supplier or distributor.